NOW AVAILABLE IN ePUB & MOBI eBook FORMATS!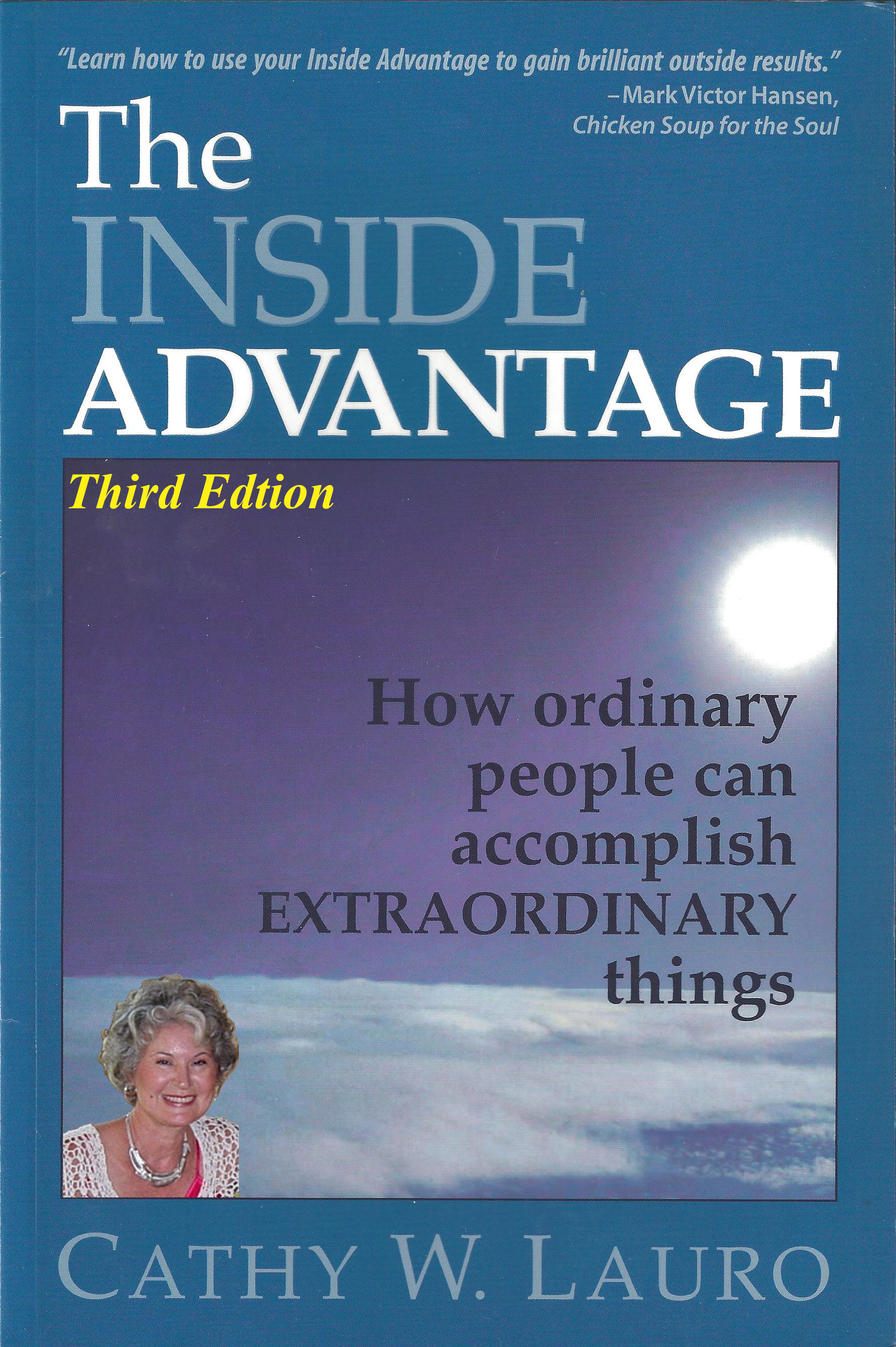 The Inside Advantage: How Ordinary People Can Accomplished EXTRAORDINARY Things
Updated 3rd Edition eBook (2019)
Cathy shares even more insights and ideas. 
What is The Inside Advantage?
Educational, Practical, and Inspirational 
This practical, inspirational guide to living more successfully is filled with self-improvement exercises that will help you reach your goals. When you clearly understand the workings of your mind, you will gain the power to change by discovering how to relieve stress and improve health, how to let go of the past and jump-start your future, how to believe in yourself and your capabilities, and much more!

With warmth, sincerity and insight, The Inside Advantage shows you how to take control of your life from the inside out. With The Inside Advantage, you will develop an "Oh, wow!" attitude that will help you live deeply, joyfully and successfully. 
 The Inside Advantage Third Edition eBook - 2019 
| | |
| --- | --- |
| ePUB format | MOBI format |
| | |

 Contact Cathy W. Lauro at 
813-727-9859
 or 
This email address is being protected from spambots. You need JavaScript enabled to view it.
What Others Are Saying About This Book:
"Learn how to gain your Inside Advantage for brilliant outside results."
Mark Victor Hansen, co-author of Chicken Soup For the Soul
"If you have the inspiration, this book can be your education."
Bernie S. Siegel, M.D., Author of Love, Medicine & Miracles and Peace, Love and Healing
"This book is the finest gift you could give to anyone you love and want to see happy. With her brilliant insights, this wise author runs deep and accurate." 
The late Arnold "Nick" Carter, former Vice President, Nightingale-Conant
"If you want to jump-start your life, personally and professionally, read this book now! Do not let another day slip past without incorporating these life-changing insights into your daily experience."
Glenna Salsbury, CSP, CPAE, author of The Art of The Fresh Start, Past President, National Speakers Association