HealthCare Services360 Provider
Capture the Benefits of Economies of Scale
A shared service center is a centralized organization within a company responsible for the execution and the handling of specific operational tasks, such as procurement, accounts payable, human resources, payroll, IT, legal, compliance, security, facilities, logistics, appointments, Coordinated Care, Billing, Nurse Assist and others, across business units, divisions and departments.   Shared service centers normally handle contacts and transactions within the company from employees, vendors, and service providers and therefore usually have little contact from customers and clients. 
HCS360 Provider employs shared services strategies to leverage a healthcare delivery system's new found scale to improve quality, increase service capacity and reduce operational costs to both internal and external constituencies.
Internal – Shared Services
Procurement
Accounts Payable
Human Resources
IT
Other individual, department and vendor needs
External (Patient Facing) – Shared Services
Appointments
Coordinated Care
Billing
Nurse Assist
Other revenue cycle and outreach programs
Patient Facing Shared Services improves control over branding and messaging.
Our LCI's HCS360 Provider Solution includes:
Shared Services Strategy – Utilizes industry experience and knowledge of best practices to assist in shaping or updating every facet of your Shared Services Strategy — customer needs, contact channels, business processes, technology infrastructure, transactional requirements, operational alignment, service goals, performance metrics, and cost impacts.
Shared Services Assessment – Documents current state of client's shared services effort.
Demand Survey – Collects limited data on costs and performance to identify candidate business functions to participate in a pilot.
Demand Analysis – Collects all data required for a business case and design.
Cost & Performance Benchmark – Establishes the basis to measure the shared services operational success.
Shared Services Operational Design – Documents operational requirements and processes, as well as technical design.
Self Service Improvement – With scale, self service technologies can be justified, further extending cost savings and increasing access to services.
Project Planning and Management – Provides all aspects of project definition, planning, design, building and implementing Shared Services.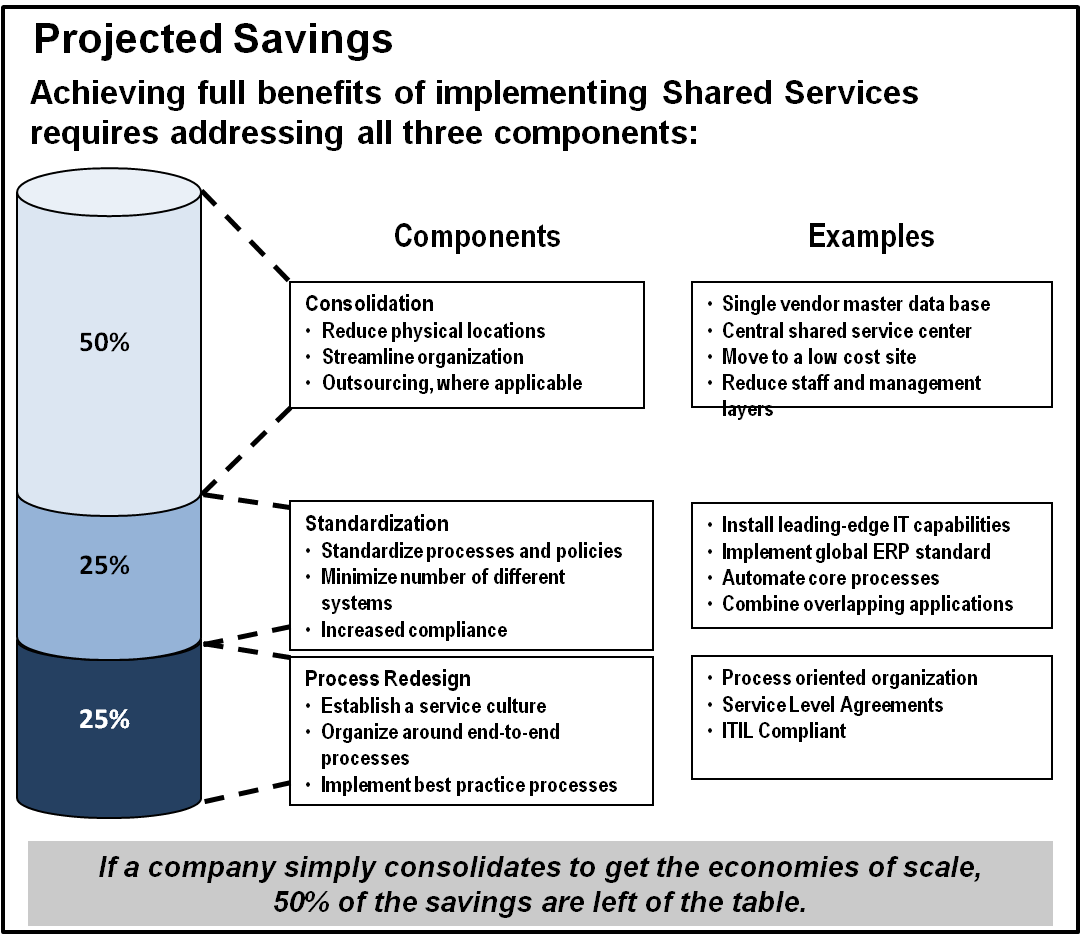 LCI's experienced team will use a collaborative process that includes input from organization leaders and other cross functional groups to help clarify the Shared Services organization's role and identify key factors that drive success.
A shared service center is often the result of consolidation of remote groups handling similar functions, transactions, and responsibilities within a Healthcare organization.  
Shared service centers are deployed for a variety of reasons:
to increase the quality and professionalism of support services,
to increase cost flexibility for supporting services,
to create a higher degree of strategic flexibility,
to increase consistency of services,
to reduce costs.
The data, information, and transactions processed by a shared services center can be recorded within a centralized system, tracked, analyzed and acted upon by the organization to improve service, operations and profitability.
Click this link to view LCI's HCS360 Provider Solution paper.  
LCI can utilize our HCS360 Solution ProviderTM to design Customer Service processes and functions into a Shared Services Strategy and implement Successful Healthcare Shared Services.