High Performance Centers
LCI's HPC Solutions are designed specifically for an area of business such as Customer Service, Contact Centers, IT Service Desks or Shared Service Centers (Accounts Payable, Human Resources, or Procurement), across many industries such as Airlines, Manufacturers, Telecommunications, Utilities and others.  Our consultants have years of experience with utilizing these solutions to assist clients improve their customer service operations.
LCI has solutions for High Performance Centers for Customer Service, Contact Centers, IT Service Desks or Shared Service Centers.

A High Performance Center is characterized by the following attributes: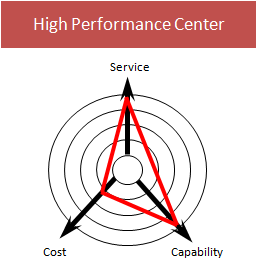 SERVICE AND PERFORMANCE AT HIGH LEVELS
EASY FOR CUSTOMERS TO DO BUSINESS WITH YOU
CUSTOMER SATISFACTION AT A HICH LEVEL
HIGH LEVEL OF EMPLOYEE SATISFACTION AND PRODUCTIVITY
STRATEGY ALIGNED WITH BUSINESS AND IT
OPERATIONAL COSTS AT OR BELOW DESIRED LEVEL
SERVICE TECHNOLOGIES DEPLOYED TO MAXIMIZE CUSTOMER EXPERIENCE & OPERATIONAL EFFICIENCIES
CONTINUAL IMPROVEMENT PROCESS IMPLEMENTED AND UTILIZED
The LCI team can provide the experience and support you need to understand your challenges and develop a realistic strategy and action plan to transform your current center into a customer-centric, High Performance Center.  Click this link to view LCI's HPC Solution paper.
LCI's High Performance Center Solutions:
•  High Performance Contact Centers (HPCC) (Service Centers, Call Centers, Email Centers, Web Chat Centers)
•  High Performance IT Service Desks (HPSD) (ITIL compliant)
•  High Performance Shared Service Centers (HPSSC) (Accounts Payable, Procurement, Scheduling)

LCI's High Performance Solutions HPCC, HPSD and HPSSC utilize our proven Integrated Approach to provide a phased method for affordable, consistent and successful results for our clients.
Focused AppraisalSM

—focuses on those areas of particular concern and interest (5-10 days)
Assessment

—review of service strategy, organization, processes, capabilities, metrics, systems and technology (6-8 weeks)
Design

— design of the more detailed process, technology, facility and change readiness activities associated with the Future State vision (4-6 months)
Build

— creation, change, testing and transition to the desired future state design (4-6 months)
Implement

— provide support and guidance for the initial "Go Live" and achieving effectiveness and efficiency with the ongoing delivery and support to ensure value for the customer and the client (1-2 months)
Additional LCI's Consulting Services
Our expert consultants utilize our industry experience and knowledge of best practices to assist you in shaping every facet of your Customer Service Strategy — customer needs, contact channels, business processes, technology infrastructure, operational alignment, service goals, performance metrics, and cost impacts.  We use a collaborative process that includes input from organization leaders within Customer Service and other cross functional groups to help clarify the Customer Service organization's role and identify key factors that drive success.
LCI Consultants use a systematic process to assist with the selection of major systems and technology. Our systematic Package Evaluation and Selection process includes selecting and preparing team members, developing an evaluation model and selection criteria, eliciting and evaluating vendor responses, deciding on a short list of vendors, and narrowing the list to a finalist.
We conduct focused appraisals of specific areas of your operations including Business Processes, Training, Workforce Management, Quality Management, Knowledge Management, Reporting, Performance Management, Technology and Systems, and Facilities.  Our assessment team provides a detailed report of findings and recommendations that will assist you in improving your service, employee satisfaction and customer satisfaction.